Pugh, Tom (1937-2016)
by Christopher Horne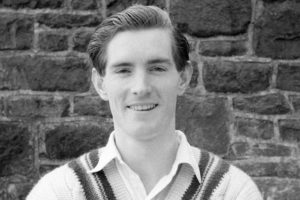 Tom Pugh, who has died at the age of 78, was Gloucestershire's most successful ever captain. Behind that bare fact lies a multitude of sins.
After a defeat and a victory at Lord's for Eton against Harrow (the young Henry Blofeld being the wicket keeper with Tom at slip), Able Seaman Pugh did his National Service and was then offered employment by a friend of his father, Walter Coles. Coles, when faced with criticism by a board member in his company that "Pugh is going off to America to play racquets for seven weeks – he has just had the summer off to play cricket for Gloucestershire – I would like to play rackets in the winter and cricket all summer", replied laconically, "If you can find a county that will have you, you can do just that".
In 1959, when Pugh played a handful of first-class matches, Gloucestershire should have won the Championship; the committee, according to both Tom Pugh and Tom Graveney, "did not rate Laker and Lock as spinners" and after Middlesex had been spun out at Cheltenham, and Brown and Smith had bowled Championship leaders Yorkshire for 35 at Bristol, the fateful decision was made to produce an underprepared wicket at Gloucester and stake all on winning the toss. Alec Bedser won the toss for Surrey, who were batting for a second time by the end of the first day, and by tea on the second day Gloucestershire had been beaten by 89 runs, whilst Yorkshire were taking maximum points. In the last two matches Yorkshire took 24 points against Gloucestershire's 0 and the Championship was lost by 18 points.
The captaincy in 1959 had been shared between George Emmett and Tom Graveney, but with no chance of his being recalled to England colours to play South Africa in 1960 under Colin Cowdrey, Tom Graveney had the captaincy and, as it happened, very nearly, the batting to himself. Only he and Martin Young averaged over 26 (Arthur Milton's season being badly curtailed by injury). The 1960 season ended with Pugh and Graveney adding 43 to beat Essex (they had added 256 against Derbyshire – a record which stands to this day) and Gloucestershire dropping to 8th in the Championship.
Against this background it was decided to change the captain. Martin Young was regarded as too old (although he was to play with distinction for another 4 years), Milton too injury prone, and the choice fell on Pugh. Tom Graveney was neither consulted nor informed, and walked out. Years later he told me, "I never enjoyed being captain, and Pugh was mad enough to take it on and could easily have done it well – he could bat but his main asset was his enthusiasm – but I felt they treated me appallingly and I had no choice but to leave".
 Unlike Graveney, Pugh could not carry the batting, and in 1961 no one averaged over 32 (David Carpenter managing the remarkable achievement – for a top order batsman – of making 1000 runs at an average of 22 without a hundred!) The nadir was reached when Pugh was adjudged lbw to David Larter with a delivery which broke his jaw. In typical Pugh fashion he agreed a declaration with Raman Subba Row and Gloucestershire won by 3 wickets – with 110 overs bowled on the third day.
However at the end of 1961 Pugh was re-appointed – against the stated wishes of Milton who had captained the side in his absence – and took the side on a very successful pre-season tour of Bermuda (persuading Stanley Matthews to make a guest appearance on the football field). Under him in 1962 Gloucestershire won 14 first-class matches – an achievement unequalled before or since. The County rose to 4th and were again let down by the batting – they had the lowest batting bonus points in the top 8 – but Pugh's own performance had been abysmal as captain (he averaged less than 15).
With Tom Graveney back in the Championship making runs for Worcestershire, public opinion – led by the Gloucester Citizen – turned against Pugh and he was sacked. Heartbroken – he never played first-class cricket again and concentrated on rackets – turning himself into – arguably – the world's finest ever doubles player.
Whatever history says we can safely say that no other Gloucestershire captain will have his appointment and dismissal still a subject of conjecture over half a century after his last first class match, will be short- listed to play James Bond, marry a Bond Girl, (who predeceased him) nor will be charged (and acquitted) under the Sexual Offences Act of 1956 for keeping a brothel. O tempora O mores – we will not see his like again.